INTRODUCING...
FOR THOSE WHO WERE UP AT DARK TO WORK.
NOW THEY'RE UP AT DARK TO PLAY.
The Ranch Hand Midnight series was designed for those of you who go hard no matter what you're doing. Forged by hand, Midnight is a full form-fitting replacement bumper constructed of 3/16" thick smooth steel, while only weighing approx. 175lbs. Midnight is our lightest bumper to date without compromising your expectations of a Ranch Hand bumper. It is available in front and rear configurations.
Midnight's brightest feature is the way it fits the front of your truck. A highly adaptable, sleek, aggressive bumper with the tightest fit you can find.
Your truck is awesome, and it's because your personality is all over it. If you want the ability to upfit your truck bumper with light bars, light pods, or personalized inserts we got you! This product allows you to make your own rules with either the additional protection of a grille guard or the lower profile aesthetic of a bumper.
Midnight is the most customizable bumper Ranch Hand has ever produced with options that enable you to put your personal touch into the smallest of details on a bumper.
The Night is Wild and So Are You. This Bumper is Built for Midnight. Built to Take a Hit.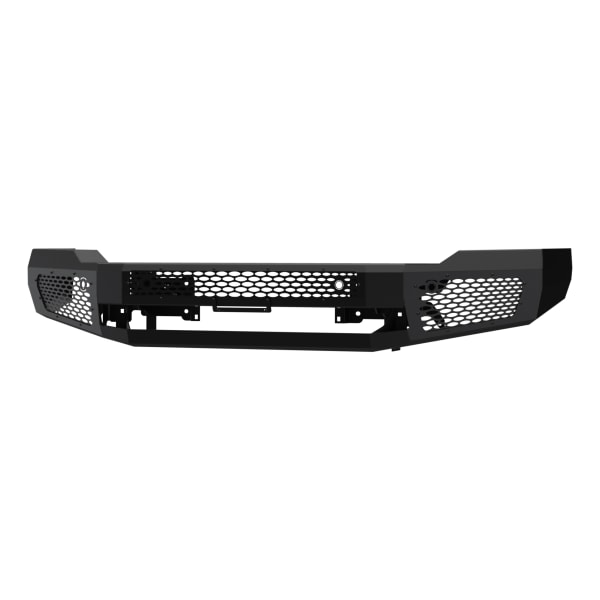 MIDNIGHT FRONT BUMPER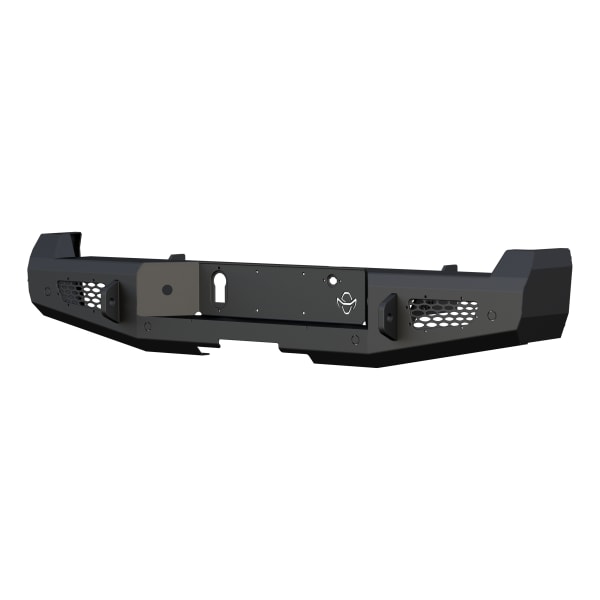 MIDNIGHT REAR BUMPER
Materials
· 7 Gauge sheet metal structure · 1/4" Steel mounting brackets · 12 Gauge steel inserts · 12 Gauge tubing on grille
Sensor + Camera Accommodations
• Removable inserts to accommodate camera feature • Pre-drilled holes incorporated into inserts
Light Accommodations
• Center insert slot can accommodate a 32" light bar with non-sensor equipped vehicles & 26" for sensor-equipped vehicles.
• Accommodates factory OEM foglights
Additional Features
• 3/5mm Thick textured matte black powder coat • Co-cured in industry-leading, rust-resistant, liquid A-coat • Black anodized stainless steel bolts for inserts • Removable inserts for customization • Angled designs allow for additional ground clearance • Provides far more tire clearance • Lower cutout for increased airflow
FIND THE RIGHT ACCESSORY FOR YOUR TRUCK
Select the Year, Make and Model of your vehicle below, and we will show you all of the Ranch Hand products available.