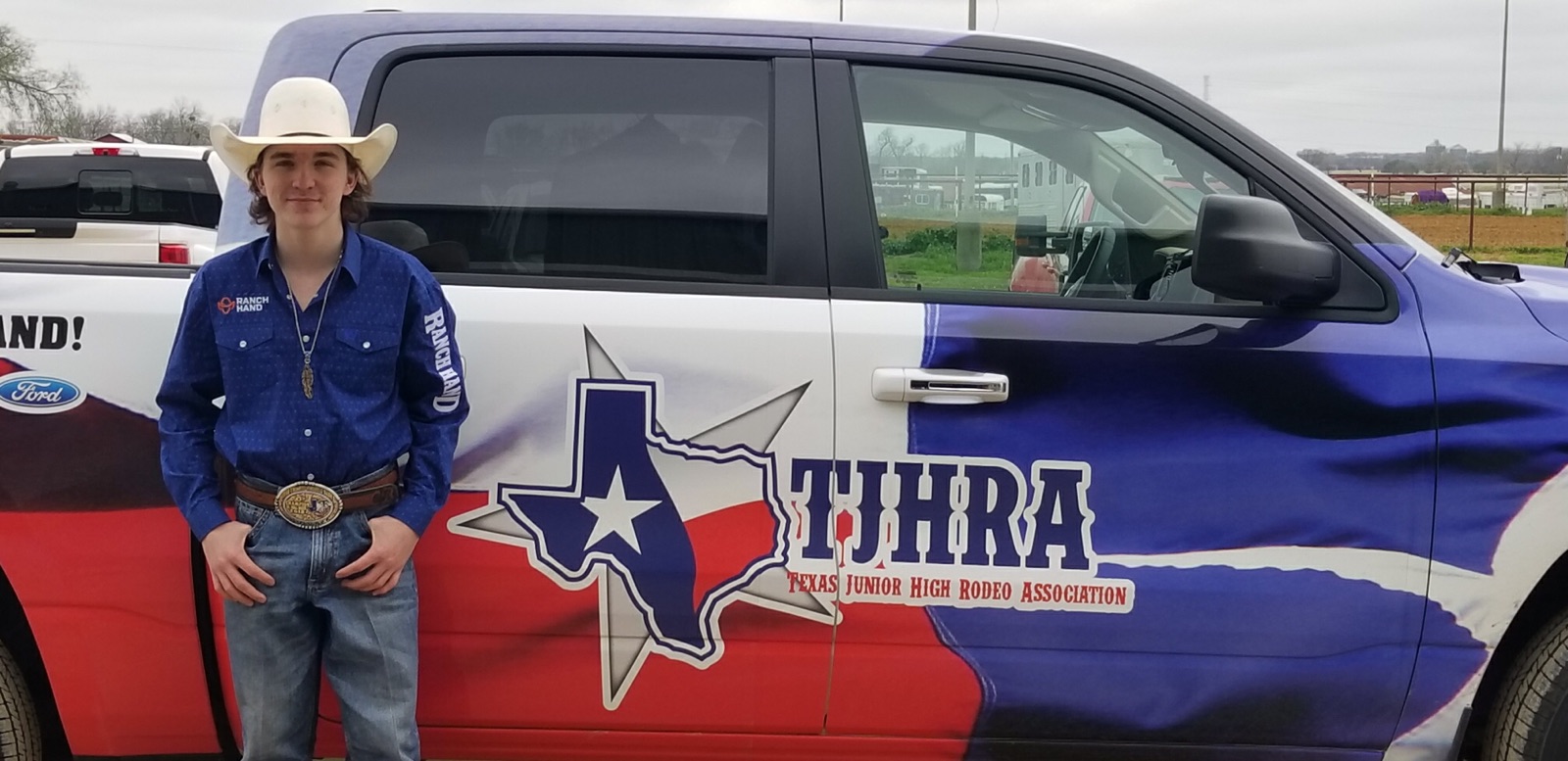 February 12, 2019
Ranch Hand Welcomes Rodeo Athlete, Canyon Bass!
We would like to extend a big warm welcome to our newest athlete on the Ranch Hand team! Canyon Bass an avid stock rider from the age of 8, now 14 years old, comes to us from Wimberley, TX. This kid has every bit of heart and dedication that would make some of us second guess the effort we give on a daily basis. His goals have been defined and he is ready and BUILT to Take a Hit! Take a moment to meet him:
Canyon Bass
My name is Canyon Bass, I am 14 years old and from Wimberley, Texas. I ride bulls and rope calves competitively. I have been riding rough stock since I was 8 years old, starting on calves, progressing to Jr. Steers, Sr. Steers, PeeWee Bulls and now Jr. Bulls. I currently participate in the Texas High School Rodeo Association (THSRA), the Jr. NFR, Elite Junior Bull Riders, Texas Youth Bull Riders (TYBR), Youth Bull Riders (YBR), the Texas Youth Rodeo Association (TYRA) and other miscellaneous open rodeos across United States. My family and I travel almost every weekend to either bull ridings or rodeos, most being in Texas, but some being in neighboring States, as well. We will be traveling to Las Vegas, NV in December for the Jr. NFR, which runs simultaneous to the NFR. My picture will be on the side of the Cinch 18 Wheeler, along with all of the 2018 National/World Jr. High Champions, which will be at the NFR and multiple pro-rodeos and youth finals throughout 2019. My short-term goals are to win the THSRA as a Rookie Freshman at the Region, State and National level. I also have set a goal to win the YBR World and Jr. NFR as a rookie Jr. Bull Rider. My long-term goals are to collect the most prestigious titles in rodeo. I would like to win the high school finals, college finals, Texas Circuit Finals, PRCA and possibly the PBR, as well. I also have a long-term goal of staying connected to rodeo even after my career ends as a commentator or rodeo producer.
Achievements
2015: Texas Christian Junior Bull Riders (TCJBR) TCJBR South East Region- top 5 Sr. Steer Rider TCJBR State- top 5 Sr. Steer Rider American Youth Bull Riders (AYBR) National Finals- Ignacio, CO AYBR top 5 Sr. Steer Rider Blanco County Rodeo Association Champion Steer Rider 2016: Texas Junior High Rodeo Association (TJHRA) TJHRA Region VI- Champion Bull Rider, top 5 breakaway roper, top 5 ribbon roper TJHRA State- Top 5 Bull Rider TJHRA Cinch Team Member Texas Christian Junior Bull Riders (TCJBR) TCJBR South East Region- Champion Pee-wee Bull Rider TCJBR State- Champion Pee-wee Bull Rider TCJBR State- High Point Ride Pee-wee Bull Rider TCJBR State- 1st round Champion Pee-wee Bull Rider TCJBR State- 2nd round Champion Pee-wee Bull Rider American Youth Bull Riders (AYBR) National Finals- Ignacio, CO AYBR top 5 Sr. Steer Rider Youth Bull Rider World Finals (YBR) YBR: 11th Sr. Steers Bandera Buck Wild Champion Mini Bull Rider Fat Bax Bucking Bulls Champion Senior Mini Bulls 2017: Texas Junior High Rodeo Association (TJHRA) TJHRA Region VI- Champion Bull Rider, top 10 calf roping, top 10 ribbon roper TJHRA State- Top 5 Bull Rider TJHRA State- Cinch Team Member Texas Christian Junior Bull Riders (TCJBR) TCJBR Hill Country Region- Champion Pee-wee Bull Rider TCJBR State- 3rd Pee-wee Bull Rider Elite Christian Junior Bull Riders (ECJBR) ECJBR- Champion Jr. Bull Rider Youth Bull Rider World Finals (YBR) YBR: 11th Sr. Steers Bandera Buck Wild Champion Mini Bull Rider Bandera Mardi Gras Buck Out Champion Mini Bull Rider Polk County Rodeo Reserve Champion Senior Bulls Monroe, LA PBR Champion Jr. Bull Rider Brent Thurman PBR Champion Jr. Bull Rider Blanco County Rodeo Association Champion Junior Bull Rider 2018: Texas Junior High Rodeo Association (TJHRA) TJHRA Region VI- Reserve Champion Bull Rider, top 10 calf roping, top 10 ribbon roper *TJHRA State- Champion Bull Rider *TJHRA World/Nationals- Champion Bull Rider *TJHRA World/Nationals- High Point Ride *TJHRA World/Nationals- Short-go Champion Elite Christian Junior Bull Riders (ECJBR) ECJBR- 3rd Jr. Bull Rider Texas Youth Bull Riders Association (TYBR) TYBR: 4th Jr. Bulls Youth Bull Rider World Finals (YBR) YBR: Reserve Champion Jr. Bull Rider Texas Youth Rodeo Association (TYRA) TYRA: Champion Year-End Jr. Bull Rider TYRA: Champion Finals Jr. Bull Rider