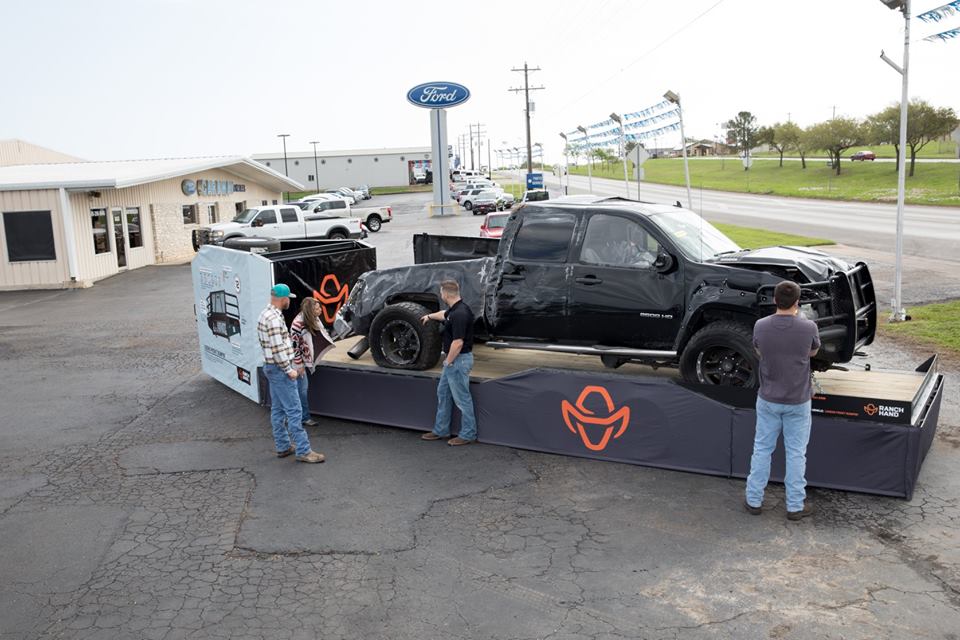 March 26, 2018
Ranch Hand to launch The Impact Tour in Houston with 93Q Country
Houston -
Ranch Hand Truck Accessories Impact Tour will continue in Houston with appearances at three of their Dealers between March 26-30. Houston radio station, 93Q Country, will partner with Ranch Hand, holding remote broadcasts at each location. Ranch Hand receives numerous testimonials every year from customers who experience accidents. Many of these customers are told by officials at the scene or investigating the accidents that the Ranch Hand product on their vehicles played a role in ensuring their protection. While Ranch Hand cannot guarantee these sorts of results, the sheer volume and responses to the stories have led to the development of The Impact. The Impact features a customized trailer holding a Chevrolet truck that was driven by Seth Spiker. In March of 2017, one of Mr. Spiker's wheels detached, leading his truck to drive off of an overpass. The truck landed squarely on the Ranch Hand front replacement bumper. Mr. Spiker walked away with only minor scratches and bruises. "I'm just thankful to be here. There was an angel with me or something. I was surprised I was alive," Mr. Spiker says in a video telling of the event on ranchhand.com. "I think the motor would have come in and crushed my legs if the Ranch Hand hadn't been there." The three appearances in Houston are the second stop of what will be a tour across the country with frequent stops at Ranch Hand Dealers, events, truck shows and trade shows. You can find specific Houston area dates and locations on ranchhand.com.
Houston Dates / Locations for Ranch Hand "Impact Tour"- MARK YOUR CALENDAR
March 26, 2018 - 4-6pm -- Location: Truckfitters, 10717 FM 1960, Houston, TX 77070
March 28, 2018 - 4-6pm -- Location: Discount Hitch & Truck Accessories, 4820 Avenue H, Rosenberg, TX 77471
March 30, 2018 - 2-4pm -- Location: Pasadena Trailers, 6060 Red Bluff Rd, Pasadena, TX 77505
3 WAYS TO WIN BIG! NO PURCHASE NECESSARY! BE THERE!
Ranch Hand will be holding an "Enter-To-Win" Legend Grille Guard sweepstakes,
93Q Country will be giving away 3 pairs of tickets to an upcoming event in Kemah on April 6, 7, and 8th. It's the Kemah Crawsfish Festival-Country music bands all weekend.
3 pairs of tickets (Value: $100 ea) to the Texas Trophy Hunters Extravaganza Show in Houston, NRG Convention, August 3-5.
"We're excited to bring The Impact to our customers and our Dealers," Jerry Courtney, Vice President of Marketing for Ranch Hand said. "It demonstrates vividly what we mean when we say Protect Your Truck. Not just Seth's story, but many customer quotes from testimonials will be featured." In addition to Mr. Spiker, Christi Brooks and Tim Tuttle from 93Q Country will be broadcasting live from each location. "Ranch Hand is a Texas tradition. The quality of the products they manufacture make me proud they are from Texas," said Christi. Ranch Hand Truck Accessories is one of the originators of aftermarket truck protection, founded and still manufacturing its products in Texas. It is a subsidiary of Kaspar Companies, a 5th generation, family-owned holding company headquartered in Shiner, Texas that has been in operation since 1898.
Contact:
Mavis Arambula-Medellin Ranch Hand Marketing 210.305.9153 marambula@ranchhand.com