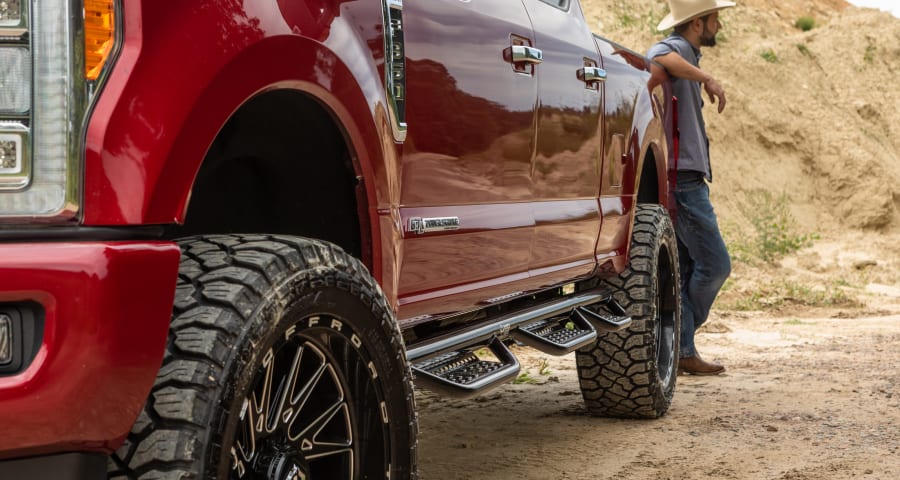 November 3, 2023
Nerf Bars Vs. Running Boards — The Comprehensive Guide for Choosing the Best Side Steps for Trucks
Choosing the right side steps for your truck takes time and consideration, given that there's a variety of products and options available, from running boards to nerf bars and everything in between.
But the question is, what's the difference between the two and which product works best for your rig?
We understand the confusion surrounding that question well. Ranch Hand fabricates the highest quality products for hard-working trucks, and for this reason, we're obliged to answer the question for you and provide some clarification that will help you sort out which steps are the best for your pickup truck.
The truth is it can be confusing. "Running boards" are often used to describe a wide category of side steps, and for this reason, we've put together this comprehensive guide to clarify key differences and help you to determine what is best for your truck.
In this guide, we'll cover nerf bars, running boards, rock sliders and side steps for trucks.
Let's dig in.
Running Boards History
Running boards have been around since the days of horse and carriage.
They were, in those times, initially used to step up into tall carriages that were often several feet off the ground. When automobiles came about, they were made with body-on-frame and therefore were also quite tall and featured large, platform-like running boards to help passengers step up into the cab. These first automobiles had large, sweeping running boards which often stretched from the front to rear fenders. For these reasons running boards became an integral part of the design and style of early automobiles, as the running boards had a very practical use but also played a role in the vehicle's style and personality. Think of those large, sweeping running boards that gave a sleek, stylish look on those larger-than-life luxury autos of the early to mid 1900s.
In both cars and carriages alike, running boards helped passengers to enter and exit with ease and safety, and also became a fundamental part of automotive style and design.
Today, there are many varieties of side steps for trucks, from running boards to nerf bars and everything in between. Let's continue on with these differences.
Running Boards — Large, Flat, Platform-Like Steps that Mount Beneath the Doorsill
The term "running board" is commonly used to describe a wide variety of side steps, and often nerf bars, side bars and step bars are included in this category. However, traditional running boards are best described as large, flat, platform-like steps that run the full length of the side of the truck in between the front and rear doors.
Traditional running boards are tucked-in close to the vehicle body and can be very wide — sometimes as much as ten inches. For this reason, they provide a distinguished, streamlined look. The key here is that they're long, platform-like steps that sit right beneath the doorsill, providing a step down from the vehicle.
They are not, however, mounted lower than the rocker panel, and for this reason, they are not commonly used on large, tall or lifted trucks or SUVs, as they mount close to the cabin and therefore do not reduce the stepping distance to the ground by too much.
Running boards pros & cons:
Pros:
• Provides a long, wide platform-like step for secure footing
• Gives a streamlined style that looks tactful and elegant
Cons:
• Doesn't reduce the stepping distance to the ground by much
• Provides a streamlined style that may appear OEM or dull looking
Nerf Bars — Large Tubular Steps That Mount Several Inches Beneath the Doorsill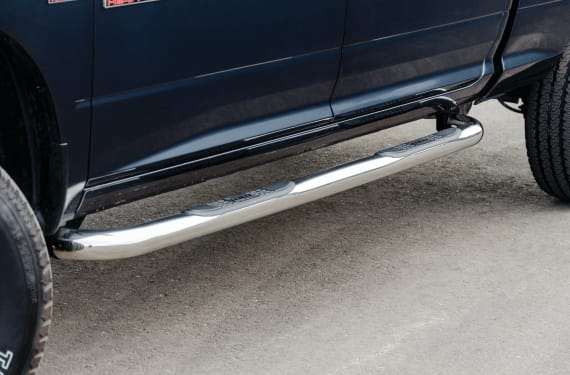 Nerf bars, also known as side bars or step bars for trucks, are easy to spot. You've likely seen nerf bars before as they're popular on trucks and are typically large in diameter, made from metal, have a sporty style and sit several inches beneath the truck's doorsill. They can be also mounted low, helping to reduce the stepping distance from the cab to the ground, and for this reason, they're often mounted on tall, lifted trucks.
They're distinguishable from other types of side steps as they hoover under the truck door and often times the ends of the nerf bar itself is bent underneath the truck. The result is a long straight tubular bar that is "U" shaped at the ends and tucks underneath the truck for a sporty look.
Nerf bars, or side bars, can also be straight depending on the specific style. There are many variations of nerf bars made for differing tastes; however, the key to identifying them is that they hoover beneath the door and feature a large diameter.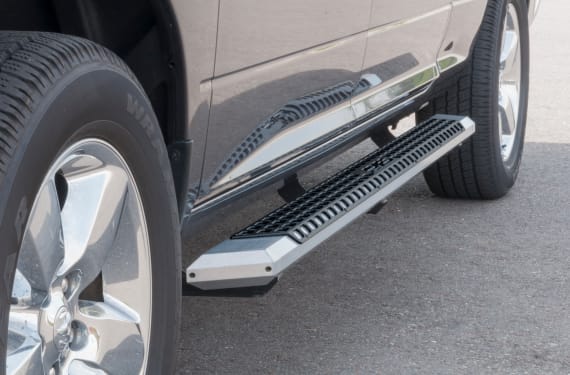 Depending on the height of the truck, nerf bars may be mounted up to a foot beneath the rocker panels.
For a sporty, rugged look, nerf bars are a decent choice; however, nerf bars are also light-duty and are not meant for job sites or off-road applications.
For protection on job sites or for use in heavy-duty or off-road applications, the best choice may be a rock slider, as they are designed specifically for protecting.
Nerf bar pros & cons:
Pros:
• Long, tubular bars provide plenty of space for stepping
• The thick diameter tubing gives a sporty and rugged style
• Can be mounted low to reduce the stepping distance from the ground into the cab
• Many unique styles are offered for differing trucks or tastes are available
Cons:
• The tubular style is less secure for footing than flat running boards
• The sporty styling may not be preferable for every truck or taste
• Light-duty construction is not ideal for job sites or off-road applications
Rock sliders — Heavy-Duty Rails That Protect Your Truck from Off-Road Hazards
Rock sliders are commonly made with extra-thick steel tubing and bolt directly to the truck frame, providing heavy-duty protection for off-roading.
The rock slider mounts just beneath the doorsill, tightly against the truck body and is designed specifically to protect the truck rocker panels, doors and underside from large rocks, boulders or debris when venturing off of paved roads.
Rock sliders prevent damage to the vehicle and help the truck to move over treacherous terrain without getting damaged or stuck. They may also be used as a step for entering and exiting the vehicle, and because they often protrude away from the truck body, they provide protection from hazards that protrude from the ground.
Rock sliders are typically reserved for 4x4 trucks and SUVs that will are frequently driven off road. They're heavy-duty and useful for extreme applications, and for this reason, are less common.
Rock slider pros & cons:
Pros:
• Extra thick, heavy-duty construction that is built to last many years
• The thick, tubular style gives an aggressive and rugged look
• Protects the truck rocker panels and body from damage from road or trail debris when off-roading
Cons:
• Off-road design prioritizes protecting the vehicle and often provides little space for secure footing
• Aggressive, off-road style may not be ideal for some tastes or trucks
Ranch Hand Running Steps — A Uniquely Designed Side Step That's Hand-Fabricated for Hard-Working Trucks
Ranch Hand builds tough products for hard-working trucks. Our running steps are built for heavy-duty work, whether that be on the ranch, job site or anywhere in between.
Ranch Hand running steps feature a unique design that blends the benefits of nerf bars and running boards, making them ideal for handling a variety of tasks. Their unique combination of nerf-bar-styled 3" steel pipe and 1-1/2" loop pipe allows for more than just a standard side step and provide a large, extra-wide platform step that is made from thick, 12-gauge perforated steel.
This unique combination makes them ideal for work and family. The large, rugged 3" steel pipe protects your rig from road debris and provides a lower step into your rig for entering and exiting your truck. This makes life easy when loading and unloading gear or equipment and makes entering the cabin hassle-free for friends and family.
We've also designed our running steps to accommodate you on the job site. The 6-step option is perfect for loading gear into the bed of your truck, as the wide platform step provides a place to gain access into the bed from the side of your rig, as well as the front and rear doors. The 4-step option provides access to the front and rear doors only.
Ranch Hand running steps are also hand-fabricated and that makes all the difference. They're hand-built to hold up over years of hard use and work, making them a dependable option that lasts the long haul.
They're fabricated from thick, heavy-duty steel and feature a unique, durable super-polyester black powder coat finish that looks sharp and stands up to years of use, scratches and corrosion.
If you're looking for the perfect side steps that'll protect while giving your pickup a distinguished look, Ranch Hand running steps are the right choice.
Ranch Hand running steps pros & cons::
Pros:
• Combines the best features of both running boards and nerf bars for trucks
• Extra thick, heavy-duty construction is built to last many years
• The thick, tubular style gives a bold and rugged, yet sophisticated look
• Wide, drop-down platform steps reduce the distance from the ground to the cab
• Optional 6-step option allows a secure step to access the bed of the truck
• Protects the truck rocker panels and body from damage from road debris
• Unique heavy-duty powder coat finish is strong and prevents corrosion, providing a long-lasting, sharp look
Cons:
• Neither a traditional running board nor a nerf bar
• High quality, but more expensive than cheaper options
• Does not have shiny, chrome finish options
• Heavy-duty, quality construction means more weight
Shop Ranch Hand Running Steps
Nerf bars vs. Running Boards — A Side-By-Side Comparison of the Best Side Steps for Trucks
Traditional Running Boards

Mounts Flush with Body
Nerf bars or Step Bars for Trucks

Mounts Beneath Doorsill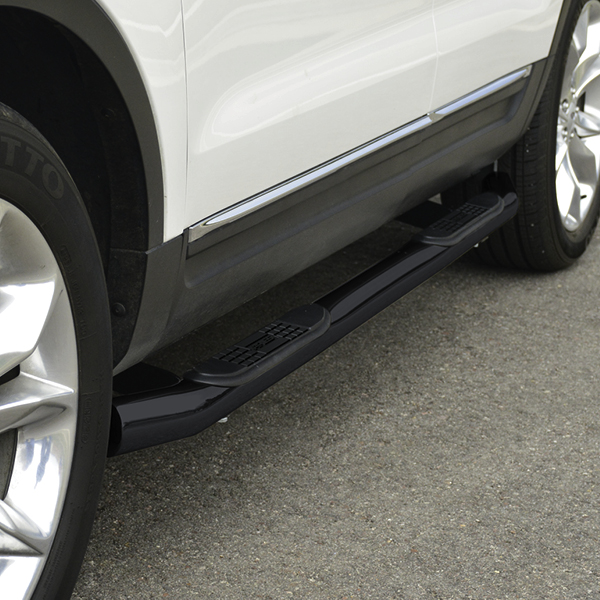 Side bars or Side Steps

Mounts Beneath Doorsill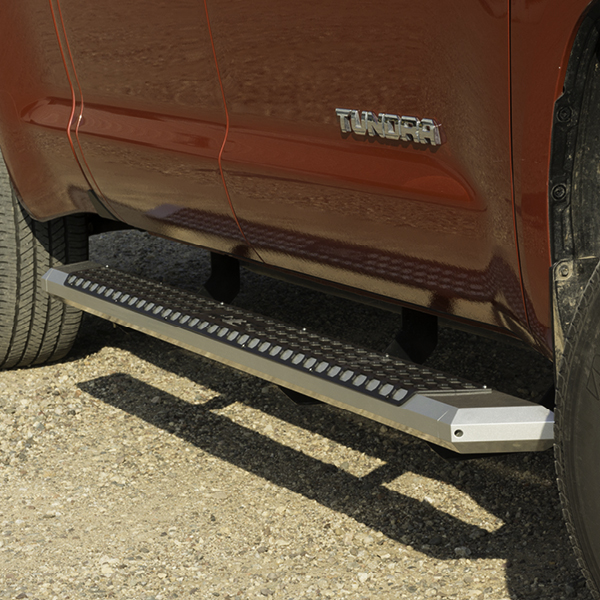 Rock Sliders

Mounts Flush with Body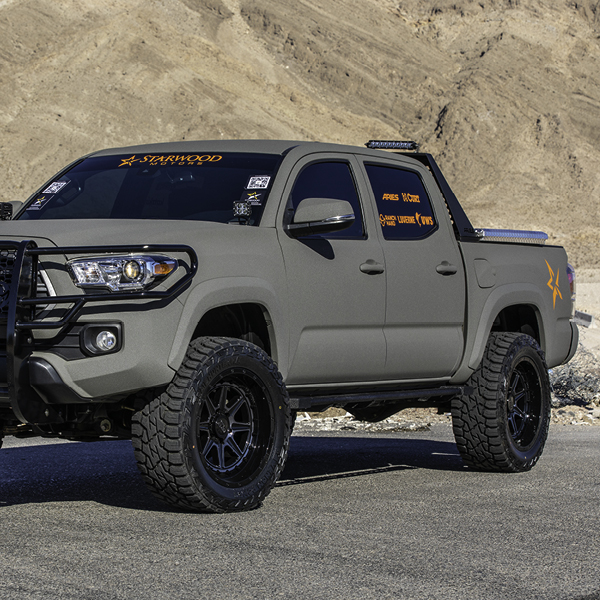 Ranch Hand Running Steps
Mounts Beneath Doorsill & Has Large Platform Steps