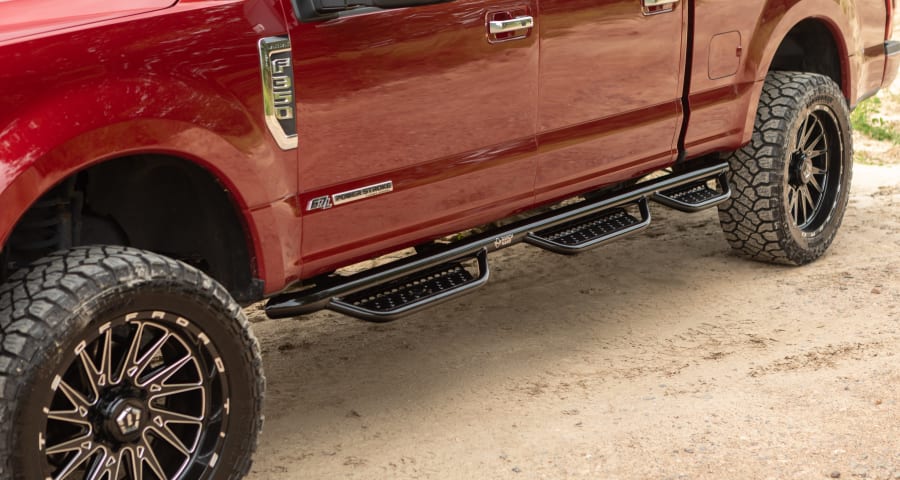 November 16, 2023
The Step-by-Step Guide for Installing Ranch Hand Running Steps on Your Truck



If you own a truck, you know how important running steps are for your rig, especially if you have a tall, lifted truck, and frequently transport heavy cargo or have family, friends or colleagues in and out of your truck often.

Fortunately, installing Ranch Hand powder coated runninging steps can make it much easier to get in and out of your truck, while also improving the overall look of your rig, giving it a bold, rugged and sporty style.

At Ranch Hand, we know how important it is to prepare your truck for any type of task or job. Our running steps are uniquely designed to perform on the jobsite and protect from road debris, helping you to get work done while also helping passengers to enter and exit your vehicle.

In this step-by-step installation guide, we'll guide you through the process of installing Ranch Hand running steps on your truck.

Before we get started, there are a few things you should know..

First, the process of installing running boards can vary depending on the make and model of your truck. The installation process requires basic tools, including a socket wrench and torque wrench.

Let's jump in.


Shop Running Steps
Step 1: Gather the Required Tools & Materials

The first step in installing running steps on your truck is to gather all the necessary materials. This will include the running boards themselves, and the provided hardware bag which will include the nuts, bolts, washers and brackets that are required get your running boards installed on your specific truck model.

You will also need a socket wrench — that can be an air powered, battery-powered or standard socket wrench. If a socket wrench is not available, a standard box-end wrench or ratchet wrench may suffice.

An electric drill with a set of appropriate drill bits may also be needed, as well as a floor creeper for ease of installation when under the truck and on your back.

A torque wrench may also be beneficial for ensuring the bolts holding your running steps in place are torqued down to the proper spec. It is also a good idea to have a friend or family member available to help you during the installation process

Tools and materials needed:

Running steps
Hardware bag (provided)
Socket wrench (or box-end wrench)
Socket set
Torque wrench
Floor creeper
Pry bar
Spray lubricant or catalyst (for old, rusted bolts
Extra person for help

Step 2: Remove the Existing Running Boards or Nerf Bars

Before you install your Ranch Hand running steps, you will first need to prep your truck. If your rig has factory running boards or nerf bars installed, these must be removed first from the sides of your vehicle.


Locate the mounting points, inspect nuts or bolts and determine the correct size

Running boards typically have three mounting points: front, rear and middle. Find the location of these mounting points. In these three locations, there are typically 2 or 3 nuts (or bolts). Use your socket set or wrench set to determine the correct size of the nuts (or bolts) and inspect for rust or corrosion. If rust or corrosion is present, you may want to spray a penetrating oil or catalyst prior to loosening to penetrate rust and prevent stripping.

Loosen and remove the front and rear nuts or bolts

Some trucks will have the running boards or nerf bars secured to the rocker panel, while others may be frame mounted. Depending on the model, the truck may use nuts with bolt studs or bolts with frame-mounted rivet nuts. Start by loosening the front and rear nuts (or bolts) slowly and carefully to ensure you don't strip or damage them.

Remove the nuts or bolts from the middle Mounting brackets

Before removing the nuts (or bolts) from the middle mounting brackets, be sure to have the running board held securely by either jack stands or another person. This prevents the running board from falling as the bolts are loosened. Carefully loosen the 2 or 3 nuts or bolts from the middle bracket, while maintaining a secure hold on the running board itself. For older trucks, a pry bar may be handy to loosen up rusted fittings. Once removed, carefully place the running board on the ground.

Inspect and prep

Inspect the rocker panels or frame rails and undercarriage for any damage, stripped bolt studs or rivet nuts and remove any dirt or debris.

Now you're ready to install your Ranch Hand running steps.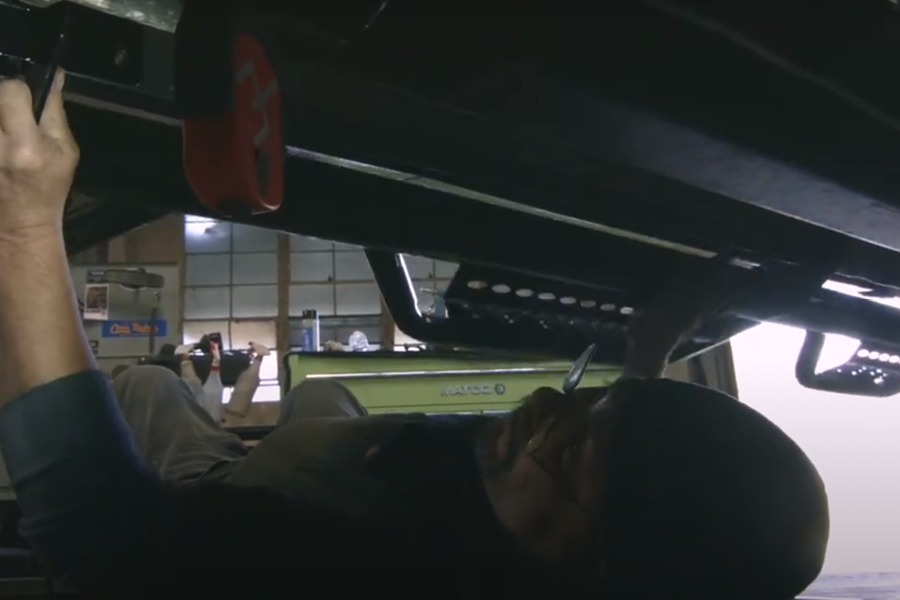 Step 3: Install Your Ranch Hand Running Step
Now that you've got your rig prepped, it's game time. Your truck is prepared and you can now begin installing your Ranch Hand running steps.
Note: the installation process may vary depending on truck make and model. It is important to reference the installation instructions provided.
Removing the protective wrapping

Start by removing the protective wrapping from your running steps.

Stage each running step on the correct side of the truck

Place each running step on the side of the truck that it belongs to. If you are installing the 6-step option, pace the rear step go towards the rear wheel of the truck.

Align the mounting brackets to the bolt studs or frame holes

Starting with the middle bracket, carefully lift the running step into place and align the bracket holes with the bolt studs on the rocker panels (or the bracket holes with the frame nuts). Hang the running steps on the bolt studs (or align the holes on the frame) starting with the middle bracket first. Fasten down the nuts (or bolts) snugly using your socket wrench or box wrench. Once the middle bracket nuts (or bolts) are snug, move to the front and repeat the process.

Torque down to spec

Now that your running steps are installed, torque the nuts (or bolts) down to spec. Ensure the nuts (or bolts) are tight but are not over-tightened to prevent stripping. Start with tightening the middle bracket nuts (or bolts) first and then, move to the front and rear brackets.

Test the running step

Place weight on the running step to ensure that it's mounted correctly to the truck, without movement or rattling. The running board should be firm and stable and should provide a sturdy step for entering and exiting the truck. Make sure the running step is level and is at the correct height.

Repeat the process

Repeat this process for the other side of the truck.
Why are Ranch Hand Running Steps the Best Choice for Your Truck?
Ranch Hand manufactures durable, powder coated products that are suitable for hard-working trucks, and our running steps are capable of heavy-duty work on the ranch, construction sites or any other location. Our running steps are designed with unique features that blend the benefits of nerf bars and running boards, delivering versatility in handling various tasks. They're sturdy and strong and provide protection from debris on or off-road and feature large, platform-like steps that offer dependable traction.
They're constructed with thick 3" steel pipe and 1-1/2" loop pipe and provide an expansive, sturdy platform made with thick 14-gauge perforated steel for maximum traction.
The steps are ideal for both work and personal use, with the robust 3" steel pipe safeguarding your truck from debris while also providing a lower step to enter or exit your vehicle. This feature facilitates effortless loading and unloading of equipment or equipment and ensures hassle-free entry for family and friends. In addition, our running steps are designed to be suitable for job sites.

The 6-step option offers a wide platform step for easy access to the truck bed from the side of the truck, making it convenient for loading gear. Alternatively, the 4-step option provides access to the front and rear doors only. Our running steps are also powder coated to protect from dings, scratches and rust to ensure they'll last a long time and many miles.
Take Pride in Your American Made Ranch Hand Running Steps
You can take pride in knowing your Ranch Hand running steps are designed, cut, fabricated, welded and finished right here in the USA. They're made with careful eyes and working hands and are fabricated and forged from the highest quality steel and materials around. They're built to last, made to take a hit and will last many years and many miles, giving your pickup truck a distinguished look that signals hard work and dependability.
For a quality running step that will last many years and look sharp, choose Ranch Hand.
Shop Running Steps
FAQ — Frequently Asked Question
Q: How much does it cost to have running steps installed professionally?
A: Installation costs vary depending on the specific truck application, the specific shop of choice and the hourly shop rate. On average, it can take anywhere from 1 to 3 hours and an average shop rate may be around $120 per hour.
Q: How long does it take to install running steps?
A: Installation time can vary depending on the specific truck application and the level of experience of the installer. However, on average, it can take anywhere from 1 to 3 hours.
Q: Do running steps require drilling into my truck for installation?
A: Our running steps are designed to bolt-up without modification or drilling to the truck. However, any time aftermarket parts and accessories are installed minor modifications may be necessary for fitment.
Q: Do Ranch Hand running steps come with installation hardware?
A: Our running steps come with a hardware bag that includes the basic nuts or bolts required for installation.
Ranch Hand Running Steps Provide Bold Style and Useful Design
Ranch Hand proudly designs, fabricates, welds and finishes our products right here in the USA. A running step, also known as running board, side step, nerf bar, step bar or truck step, is designed to help you enter and exit your pickup truck with ease. A nerf bar can help with traction and is unique in that it sits beneath the rocker panel, unlike a running board, which hangs tightly beneath the doorsill. A Ranch Hand running step features unique features that combines the benefits of a side step, nerf bar and running board together and even provides protection from road debris, similar to a rock slider.